Quest'anno Zoya ci propone ben due collezioni primaverili e con esse accontenta un pò tutti i gusti:
ZOYA Lovely Collection, Love is in the air!!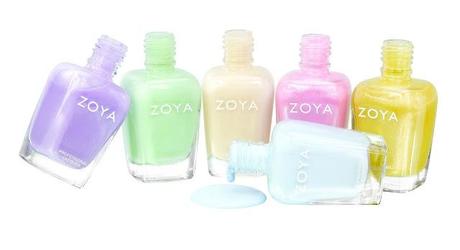 Una collezione che ripropone i colori pastello come "idea della primavera Zoya".
Nuances rilassanti, leggere, chiare e solari come una giornata primaverile, eteree, narcisiste, delicata, ultra femminili. Ma ovviamente non può non essere presente una novità.
Dov'è la news? Nel finish metallizzato!!
Cremosi e lievemente shimmer hanno una finitura compatta ed impeccabile pur evolvendo verso toni leggeri, romantici e marcatamente poetici ma altamente pigmentati mper cui la stesura è semplice e agevole e basta una sola applicazione.
Perfettamente sfruttabili anche in estate questi colori spiccherebbero con una pelle abbronzata
Sono ben 6 i nuovi colori proposti:
Piaf - Un giallo forsizia con opalescenze metalliche, l'evoluzione primaverile della tendenza oro che ha spopolato in inverno*
GeiGei - Rosa bocciolo metallico ad effetto full coverage*
Blu - Blu giacinto cremosissimo ad effetto full coverage
Julie - Glicine metallico con radiose opalescenze*
Neely - Verde chiaro delicato e cremoso, decisamente primaverile**
Jacqueline - Rosa ad effetto nude tenue ma cremoso**
*Colori creati per le collezioni Zang Toi primavera/estate 2013
** Colori creati per le collezioni Peter Som primavera/estate 2013
Un'esaltazione della femminilità e della raffinatezza rigorosamente senza toluene, formaldeide, DBP, canfora e resine di formaldeide: Lovely Collection garantisce un total look impeccabile dalla durata n. 1 al mondo con applicazione Color Lock System.
Prezzo imposto 14 € presso gli Zoya Point.
gli swatches appartengono al sito: www.thepolishaholic.com
Love is in the air!!
ZOYA Pixie Dust, smalti dalla texture magica!!
Imperversa la Sugar Mania o nail lacquer effetto "sabbia liquida" che dir si voglia: sarà sicuramente un must per tutto il 2013!
Molti brand li hanno inseriti nelle loro collezioni e Zoya li ha proposti alle sue fans più modaiole con la Pixie Dust collection.
Hanno un finish esclusivo: quasi tridimensionale, intensificato da copiosi glitter ed iridescenze che creano bagliori di luce veramente unici.
Bastano tre applicazioni di smalto per realizzare questa magia senza aggiunta di top coat.
Ecco i protagonisti di questo autentico look must have!
Pixie Dust limited edition sarà disponibile a partire da febbraio negli stores ZOYA Point. Prezzo al pubblico: 14 €
Le nuances della collezione Pixie Dust sono 6, tre sono in pieno tema primaverile e perciò colorati ma tenui, prevalentemente pastello, gli altri sono colori più classici, cme rosso e nero portabili in qualsiasi stagione:
Dahlia - Black Beauty sparkle, nero scintillante decisamente da soirée!
Chyna- Red Dazzle sparkle, rosso scintillante per un look da vera diva!
Godiva- Delicatissimo, ad effetto nude con perlescenze oro.
Vespa -Riflessi colore menta per un colore ricco di carisma.
Nyx -Pervinca perfetto per ogni occasione, anche con un total
London - il cosidetto Grigio fumo di Londra, nebbioso ed impolverato, ma incredibilmente chic: proprio come il cielo di Londra.

Imprigionano la luce e donano effetti inaspettati, questi sono i nuovi LE della Zoya, Pixie Dust:
Ispirata alle polveri magiche delle favole!