Abbiamo troppi impegni o siamo troppo pigre per recarci in un salone professionale a fare la manicure? Però vorremmo egualmente delle unghie sempre colorate e in ordine? Oggi è possibile grazie a una manicure semipermanente home-made, per giunta senza rinunciare alla qualità di un servizio professionale. La soluzione la dà la Orly! ORLY SmartGELS è un Sistema Manicure Smalto Gel che si può utilizzare quando si vuole, in casa propria. Il procedimento di applicazione e rimozione del prodotto è semplice e intuitivo (vedi immagine in basso), ma il risultato è quello di un servizio professionale: colore brillante e perfetto, con una durata fino a tre settimane e senza sbeccature. La sua formula infusa di Vitamine protegge le unghie naturali, rinforzandole: una volta rimosso il gel le tue unghie restano sane, forti e resistenti, come e più di prima! La cartella colori comprende

24 nuance

, coordinate con quelle degli Smalti ORLY più amati, che sono oltre 100, dando la possibillità di combinare la manicure smalto gel alla un pedicure con smalto classico oppure "

piccolo trucchetto

", ritoccare la ricrescita del tuo manicure ORLY SmartGELS per farla durare ancora più a lungo!
led lamp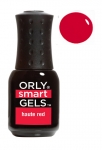 Lo SmartGELS

Starter Kit

è un kit compatto perfetto per iniziare ad utilizzare Orly SmartGELS ed ottenere un manicure da salone comodamente a casa, nel kit si trova tutto l'occorrente per effettuare la manicure Orly SmartGELS, tranne lampada LED e colori.
Portable Smart LED Lamp.
Esattamente i

l Sistema ORLY SmartGELS comprende

: - SmartGELS Primer – indispensabile per preparare la superficie dell'unghia all'applicazione del gel, garantisce inoltre una lunga durata del prodotto. - SmartGELS Base+Top – un'unica formula che combina le caratteristiche di una base e di un top per un utilizzo più semplice. La Base maschera le imperfezioni dell'unghia e crea una superficie perfettamente liscia ed uniforme sulla quale applicare il gel. Il Top sigilla il colore donandogli una finitura extra glossy e proteggendolo per settimane. - SmartGELS Color – 12 nuance nel formato mini da 5,3ml, ideali per l'utilizzo a casa e da portare in viaggio. - Lampada LED – lampada super compatta che sfrutta la moderna tecnologia LED per asciugare il prodotto nella metà del tempo. (Non inclusa nello starter kit)
-
SmartGELS Remover & Pocket Remover – solvente delicato e pratiche "taschine" dotate
di spugnetta che permettono di rimuovere il gel in pochi minuti minimizzando il contatto del
solvente con la pelle.
- SmartGELS Cleanser – deterge e asciuga la lamina ungueale preparandola all'applicazione
del prodotto, rimuove inoltre lo strato dispersivo del gel al termine dell'applicazione lasciando l'unghia perfettamente lucida e brillante.
new colors
Il
Packaging
-
I Colori ORLY SmartGELS si trovano in mini flaconcini da 5,3ml dotato di Gripper Cap (il pluripremiato tappo antiscivolo) e di etichetta che riproduce il colore del gel contenuto all'interno
.
Prezzo consigliato al pubblico
- Colori smalti ORLY SmartGELS: 21,00 € cad.
- ORLY SmartGELS Starter Kit: 119,00 €
- Lampada LED Orly SmartGELS: 210,00 €
Tutti i prodotti della linea ORLY SmartGELS sono privi di DBP, Toluene, Formaldeide e Resina di Formaldeide.
Dove acquistare:
Il Sistema ORLY SmartGELS sarà disponibile per l'acquisto a partire da maggio presso le maggiori Farmacie.
Informazioni sul brand ORLY
Ladybird house - Modena (Distributore Esclusivo Italia brand Orly): Tel. 059-284163.
Orly on-line:
• www.orlysmartgel.it
• Facebook: ORLY in Farmacia
• Twitter: SmaltiOrly
• Pinterest: Smalti Orly Italia
• You Tube: Smalti Orly
Video Orly Smart Gels BSB Cosmo 2012 YouTube:
Orly Education Manager, Catherine Baek, speaks about Orly Smart Gels, developed for easy home use on fingers and toes. You won't believe the size (and power!) of the portable Smart LED Lamp.